When two or more parties make an agreement in the business world, they usually draw up and sign a formal contract that outlines the rights and responsibilities of each party. Each party is legally required to abide by the terms of the contract, but unfortunately, one or more parties may fail in this duty. If for any reason one party fails to honor or abide by the terms of a contract, that party is said to have breached the contract and can be held liable for their actions. Contracts can also arise from a course of dealing between parties even in the absence of a formal written agreement and breaches here also can occur. Under the Statute of Frauds, oral contracts that by their terms are to be performed within 365 days are enforceable.
---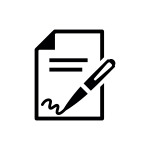 Partial and Material Contract Breaches
At the Burk Law Firm, P.C., our knowledgeable contract litigation lawyers can help you with:
---
Material Breach of Contract: One party may sue another for failing to adhere to the conditions of a contract, as well as for the damages that occurred as a result of that failure.
Partial Breach of Contract: The plaintiff is only allowed to sue the other party for actual and possibly other types of damages that occurred as a result of the breach, not for the fact that the contract was breached.
Remedies for breach
Damages for breach
Usually, the aggrieved party is awarded financial damages in response to the other party's contract breach. However, sometimes this breach of contract cannot be adequately remedied through monetary compensation. In these cases, the court may order the party that breached the contract to perform the contract terms. At the Burk Law Firm, P.C., we have helped many breach of contract victims secure the compensation they deserve, and we may be able to do the same for you.
---
Contact Us
For more information about breach of contract laws, or if you have been the victim of a breach of contract, contact the breach of contract lawyers of Burk Law Firm, P.C. by calling 512-306-9828 or toll-free at 1-888-476-9140 or via email to [email protected] with the subject line containing "Potential New Case" today.