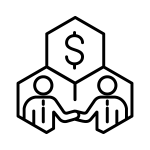 Fiduciary duty refers to the legal duty that each member of a certain type of business or professional relationship has to act in the best interests of the other member and never advantage himself over the other to whom he/she oversees a fiduciary duty.
Therefore, the fiduciary is forbidden to act in any way that is beneficial to the fiduciary and detrimental to the principal's interests. Unfortunately, sometimes a fiduciary fails to uphold his or her duties, either for personal gain or to favor another party's interests.
---
Breach of Fiduciary Duty
At Burk Law Firm, P.C., we understand the complexities of fiduciary relationships and we can help you fight back if you have been the victim of violations of fiduciary duties owed to you. A fiduciary duty is present in many types of professional relationships involving financial and property management, including, without limitation:
Majority shareholder(s) to minority shareholder(s) in a closely held (less than 35 shareholders) corporation or business entity
Board members and shareholders
Trustees and beneficiaries
Lawyers and clients
A fiduciary duty may be established by legal relationships or through official documents created, signed, or otherwise agreed to and accepted by both parties in a relationship. If the fiduciary does not act in the best interest of the person or entity to whom the duty is owed, the person or entity owed the duty may decide to pursue legal action with the assistance of a qualified breach of fiduciary duty attorney.
Burk Law Firm, P.C. can assist persons and entities to whom fiduciary duties are owed which duties have been breached with:
Remedies both legal and equitable (injunctions, lis pendens)
Damages recovery
---
Contact Us
You can fight back against an unfair or manipulative fiduciary relationship with the help of a breach of fiduciary duty attorney from the Burk Law Firm, P.C. Contact our offices at 512-306-9828 or toll free at 1-888-476-9140 or via email to [email protected] with the subject line containing "Potential New Case" today to learn more about what our experienced attorneys may be able to do for you.